So, I'm turning the big "40" here in a few days and while this milestone birthday can be a bit depressing for many, I find myself excited for this next decade and all that it will hold.  Honestly, turning 30 was kind of hard for me. And yet, as leery as I was heading into those years, some of my greatest personal growth occurred during that time. Here are a few things I have worked hard at in the last decade that have also enriched my life immensely.
1.)  Girlfriends that love fiercely.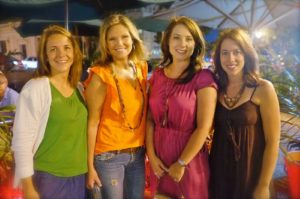 One of the best things about being this age is that I've learned how to choose well when it comes to my friendships.  I've discovered that great friendships don't just materialize, they are made.  It takes time and energy to form a deep and lasting friendship.  A friendship that's worth anything to you has undoubtedly endured misunderstandings, hurt feelings and a few bumps and bruises along the way.  But that's what makes them so valuable.  You've invested your time and a decent amount of work into the relationship.  You've taken risks and have shared vulnerable moments together.  If it's a truly deep friendship you have probably had to lovingly correct, ask for forgiveness and possibly even work through moments of jealousy. But strong, healthy friendships go there.  They do the hard, deep work because they know the reward is worth it.  These friendships, the ones that love fiercely, that go the extra mile and are committed to digging in and doing the hard work when life calls for it, these are amongst the sweetest gifts God gives.