Our giant oak tree came down today.
The city sent out a crew, on our request, to take out the gigantic tree that sits near the road and is eating into our driveway.  Standing on our sidewalk, all you can see for blocks is an army of trees lining the boulevard, standing tall and proud, keeping guard like a watchman.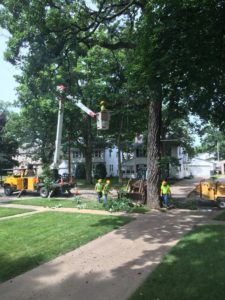 It's a beautiful stretch of foliage that in the summer gives way to a canopy of lush green leaves and in the fall, with the late afternoon sun gently resting on them, takes your breath away with the dazzling hues of crimson red, golden yellow and burnt orange.  Honestly, I will miss the grand old oak.  But we have had too many close calls and several accidents involving people trying to back out of our driveway. It was starting to impede with everyday life. 
When I returned home late this morning, they were already hard at work taking it down.The noise level caused me to hurry inside the house quickly, still managing to catch some sawdust in my eye as I passed by.  From a quieter distance and without any foreign debris interfering with my vision, I stood by our large front window, mesmerized by the scene unfolding before me.
I'm not sure what I was expecting, but it definitely wasn't the almost ballet like dance that was being performed in my front yard. And starring workmen wearing hard hats and neon green vests at that.  As Levi and I gazed at the scene together we realized that although this massive tree wielded great strength, the workmen were in complete control of each branch that fell.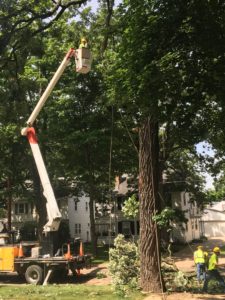 It was amazing to watch them work.  There was an intricate web of rope used to secure and tie off the branch that was next up to be removed by the chainsaw.  As the blade found its way through the last few inches of the branch, separating it from the trunk, it fell almost in slow motion as it neared the ground and gently swayed back and forth under the direction of the workers.  Never did they wonder which branch was going to fall or where it might land.  They were in charge, they knew.  The branch would land exactly as they had planned.
So often in life when we are in the midst of hard stuff, from small branches being removed to entire trees being uprooted, we wonder if God will really be able to handle it.  We doubt his ability to work on our behalf.  We worry that our branches will tumble to the ground with a thud and we will be left with the marks of its haphazard descent.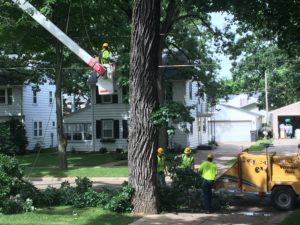 But as I sat there watching the men work, watching the control they had over the process and over each and every branch that was removed, I was reminded again of the incredible way God cares for each of us.  He is in control.  Nothing happens that he does not see or does not care about.  Not a single branch falls that he's not aware of.  He is there in the midst of our mess and  upheaval, gently guiding the fallen branches down.  Never does He wonder what is going to happen or exactly what that might look like.  He's in charge, he already knows. Every branch will land under his watchful care.
He stands guard over us, directing the descent of our difficulties.
Psalm 121:5-8 says,

"The Lord watches over you—
the Lord is your shade at your right hand;
the sun will not harm you by day,
nor the moon by night.

The Lord will keep you from all harm—
he will watch over your life;
The Lord will watch over your coming and going
both now and forevermore.
So if you're going through something messy or difficult where you feel like chaos is reigning and you're not sure whether you're going to make it through, be reminded that He's got it all under control.  Rest in the fact that he stands guard over you and takes great care in causing those things to fall gently into place under his watchful charge.  He watches over our coming and going both now and always.  Amen.