My daughter was a little over 2 years old the first time she knocked out her front tooth.  It was a beautiful Spring day and we were all playing outside.  She had meandered towards the neighbor's driveway and was playing with a giant red ball, the kind you can buy at Walmart for like $2.88. She was chasing after it and decided to dive on top of it, hoping to land her squishy little belly onto the soft underbelly of the ball.  But she missed it, the ball kept rolling and she landed face first onto the concrete.
The second time she knocked out her (other) front tooth was when we were visiting grandma Broberg and she decided to quietly sneak into the kitchen, drag a chair over to the cupboard, and hoist herself onto the counter to snag herself a famously dubbed "grandma snack." Well, she achieved her goal only to succumb to a faulty dismount that left her with one less tooth.
So when I learned last week that she had sustained a badminton racquet to the mouth from a kid in gym class and had chipped off a large portion of her front right tooth, although I shouldn't have been too surprised, I was.  I figured she was done with tooth injuries but I guess I was wrong.
This time was a little harder for her. The other two times she had lost a tooth, she had been so young.  Before her hot tears were dry on her chubby little cheeks she was running around again, defying nature without a care in the world.  But this time she was an 11-year old girl, keenly aware of how she presents herself to the world.  A middle school tween, trying to figure out her place in this world.  And although she's incredibly brave, she's also still my little girl.  I knew in my heart that the question was coming.
But I was wrong, she never asked me anything.  Instead, she declared it. "Mom, I'm so ugly with my tooth like this." It broke my heart to hear her say it, but I let it hang there in the air for a moment.  Although untrue, it was an expression of how she felt, and I always want her to feel safe in sharing her feelings with me.  "I don't think that's true," I finally said.  I went on to explain to her how nothing about who she is had changed.  And it's who she is that makes her beautiful.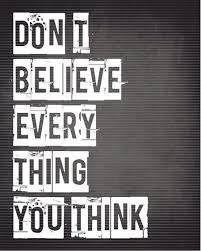 Several nights later I was tucking her in bed, snuggled up next to her.  I was tickling her back when she said it again, "I just feel so stupid & ugly with my tooth half missing."  As we talked a bit more about how she was feeling and about what makes a person truly beautiful, I realized again how easy it is to believe lies.  How without even realizing it, we can believe things about ourselves and even about others, that just aren't true.
We believe the lie that we aren't GOOD enough. We aren't SMART enough. We aren't PRETTY enough.  But enough for what? Enough for who?
She was believing the lie that because her tooth was chipped that it somehow made her less attractive which in turn made her less valuable as a person.  Which is completely untrue.  But I quickly realized, I still have faulty thinking myself.  There are times in my own life when I'm too busy to get a home cooked meal on the table, or my house is messy, or one of my kids does or says something unkind, and I believe the lie that says I'm a failure as a mom.  Sometimes when I haven't been exercising or have been eating my feelings, I believe the lie that I'm not enough because I weigh more than I'd like.  I'm constantly battling the lie that says I'm not enough as a pastor's wife because my personality and giftings don't seem to line up with what many would expect.
But the only way to combat lies is to replace them with truth.
We believe lies all the time.  Because of _____, you're not enough.  When the truth is we are always enough for God.
The truth is because of Jesus, we are FORGIVEN (1 John 1:9), FREE (John 8:32, 36) SAVED (Ephesians 2:8-9) LOVED (John 3:16) (Romans 5:8) STRONG (Isaiah 40:31) (Psalm 27:14) (Joshua 1:9) & VICTORIOUS (1 Corinthians 15:57) (1 John 5:4) (Romans 8:37).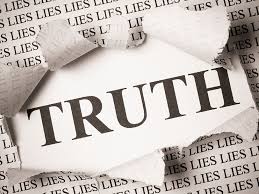 As we talked, I felt like we were chipping away at the lies together.   Like each lie that was identified and brought into the light, His light, was like striking a chisel with a mallet.  Slowly chipping away at the thick layer of lies and revealing His beautiful truth.
Today, let's exchange the lies of the Enemy for the truth of His word. Let's believe with all of our hearts that we are made in His image and our identity is found solely in Him.  We do not find our identity in other people, in our successes or our failures, we don't find it material things or in our physical appearance.  We refuse to believe the lies.  Instead, we exchange them for the truth of who God says we are.
If you have time today, listen to Lauren Daigle's song, "You Say," and allow the truth of who God says you are to change your faulty thinking. Let his truth replace the lies.  His word tells us that we are declared righteous through our faith in Jesus (Romans 5:1) and that He calls us by name and we are His. (Isaiah 43:1)